by David Lozada
EXCERPT:
Silence on FOI
The FOI Youth Initiative (FYI), a nationwide alliance of 122 youth and student groups lobbying for the Freedom of Information (FOI) bill, also expressed their disappointment that FOI was not mentioned in the President's SONA.
FYI national convener Allan Pangilinan said the FOI bill should be the Aquino administration's priority.
"We cannot be fully aware of the true state of the nation without freedom of information...The FOI should be the centerpiece of the platform of an Administration that continuously calls for accountability among its officials," Pangilinan said.
Nic Angeles of the UP Diliman College of Social Sciences and Philosophy (UP-CSSP) said the FOI is key to Aquino's matuwid na daan.
"In order for citizens to be partners in the Aquino Administration's 'daang matuwid', it is imperative that we are empowered by a law that institutionalizes transparency in public offices," Angeles said.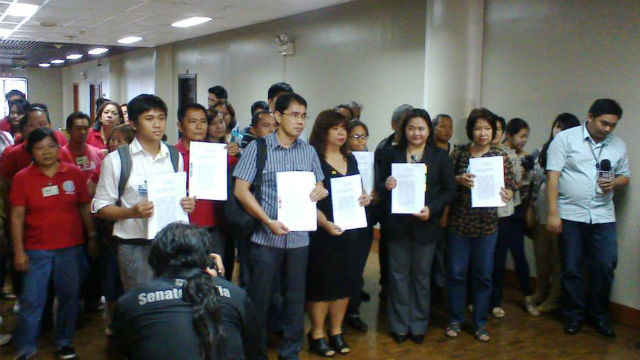 TRANSPARENCY. FYI members submit their manifesto to the Senators
a week before the SONA. Photo from FYI's Facebook page
'Unfazed'
FYI plans to intensify its lobbying efforts in the House of Representatives and the Senate.
"With or without the FOI in the SONA, we will remain steadfast in our campaign for the enactment of this important piece of legislation," Angeles said.
Pangilinan said that FYI hope to get more legislators to support their position.
FYI hopes to engage the new Chairperson of the House of Representatives Committee on Public Information (CPI). The House is expected to announce its new committee chairpersons within the week.
FYI hopes the bill will be passed in the 16th Congress.
"While we still hope that the President realizes the need for the FOI Law to ensure broader citizens' participation in governance and development, we don't have the luxury of time to wait, especially in light of recent issues involving public funds allegedly being spent on bogus organizations," Angeles said. -Rappler.com